How to pay and get paid with crypto using Binance Pay
Binance Pay it's here to make our lives easier in many ways. If you are in the world of cryptocurrencies. (highly recommended) Binance is the platform you need to know, especially if you want to pay and get paid with cryptocurrencies, you must know Binance Pay.
I have been a Binance user for two years now, and it amazes me how it has become the financial platform that I use and checks daily.
If you are starting digital entrepreneurship, it's natural to be interested in cryptos, get paid for your website services with them, and pay for services and products in your own country using cryptos.
Cryptocurrency payments are becoming more common, big companies like Tesla, small entrepreneurs like craft breweries, or websites like this one spot a high advantage on getting paid in cryptocurrency:
A recent survey by the Mercuryo payment network detailed that 57% of responders believe accepting cryptocurrency payments would give businesses a competitive advantage. Read more in this article by Cointelegraph: Retailers to drive crypto payments adoption: Survey
Bitcoin is the most stellar and most useful system of mutual trust ever devised.
So don't miss this Binance service, familiarize yourself with it, and try it on your Binance account. This way, you can start getting paid in cryptocurrencies for all the services and products you sell on your site.
Before we move on, let's get down to the basics.
Binance Pay is a contactless, borderless and secure cryptocurrency payment technology designed by Binance. That allows you to pay and get paid from your family and friends in more than forty cryptocurrencies.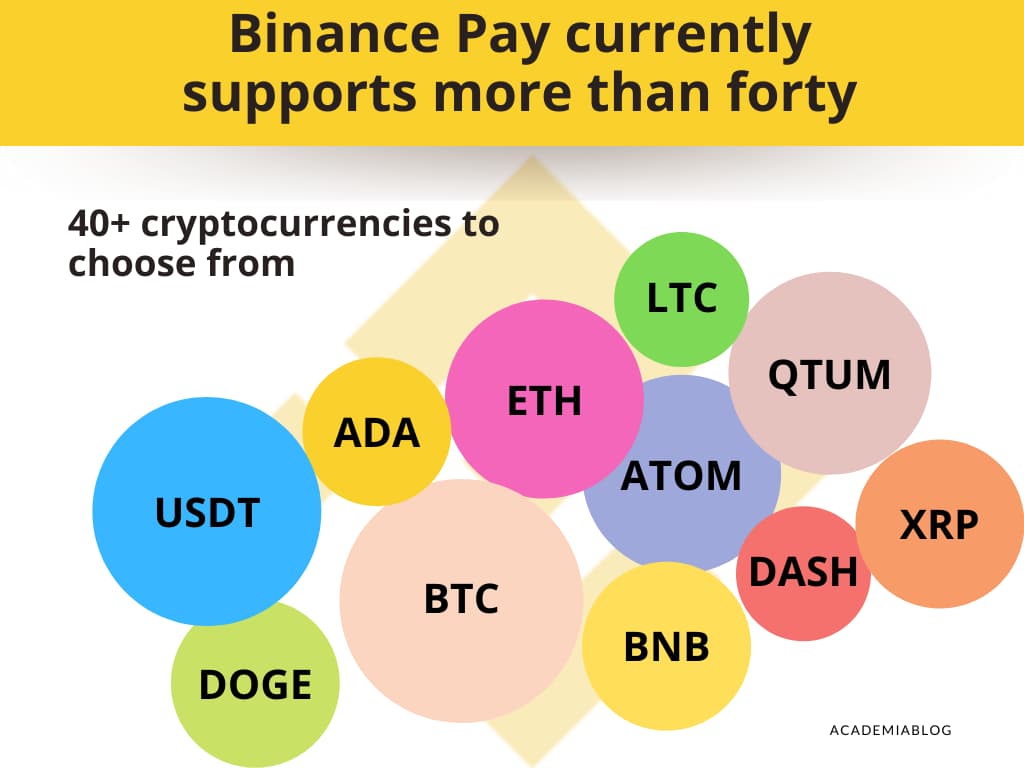 Also, you can pay with cryptocurrencies in establishments that accept the Binance Pay service.
Además, si tienes un blog, y you develop digital products or offer coaching services, you can add the Binance Pay information as a payment method.
You can get cryptos to trade, pay for other products, exchange them for local money, all in one place: Binance.
9 Reasons to use Binance Pay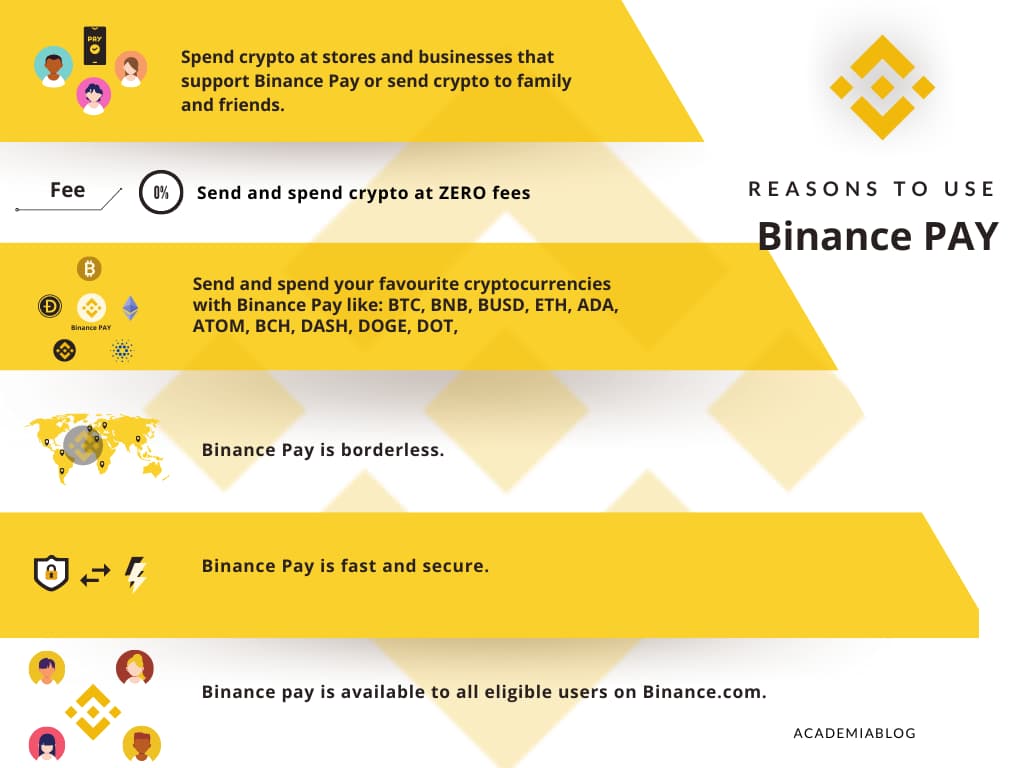 1. Binance Pay is a payment service between users
You can shop and pay with crypto at stores and businesses that support Binance Pay, like:
Travala Travel website
Shopping.io: shop product with crypto.
Cryptorefills: shop Amazon or Netflix gift card.
You can use Binance Pay at these stores: See Merchants
Be aware of new announcements in social media of your favorite store, some are announcing the addition of Binance Pay as a payment method.
2. Send crypto to friends and family
Send pay to your family or friends, no matter where they are using Binance Pay.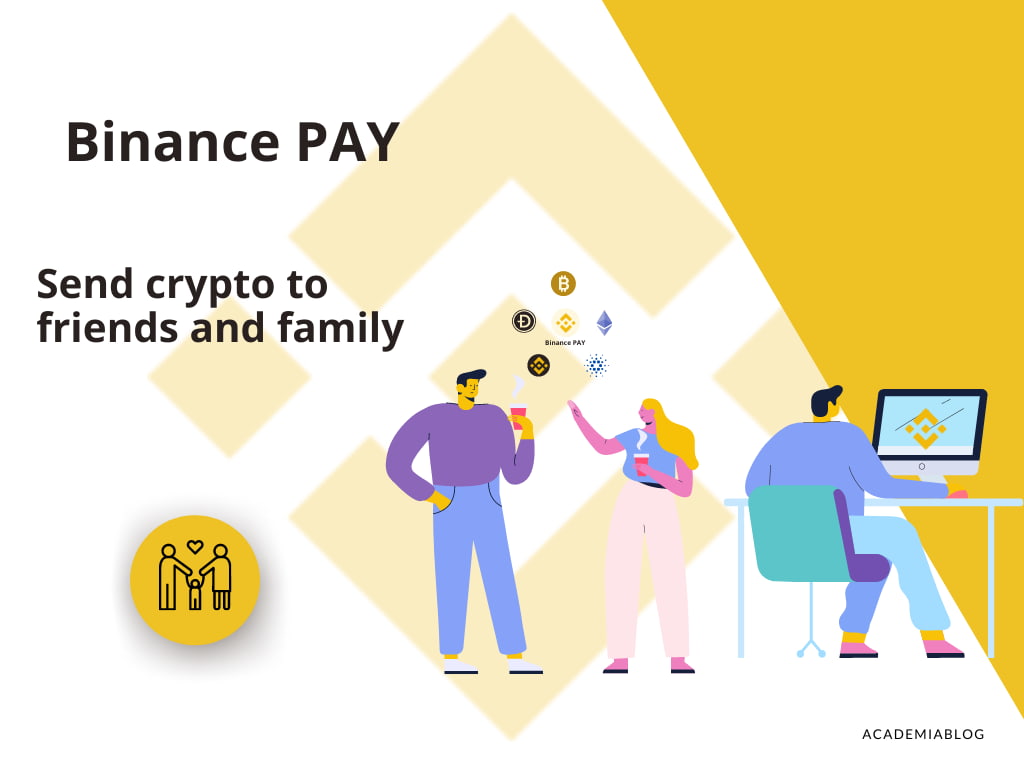 Thanks to the cryptocurrency payment technology designed by Binance, transactions made with Binance Pay do not cause commissions.
4. More of 40 cryptocurrencies to choose from
More than 40 cryptocurrencies are available to pay and buy with Binance Pay, these are some of them:
ADA, ATOM, AVA, BCH, BNB, BTC, BUSD, CTSI, DASH, DOGE, DOT, EGLD, EOS, ETC, ETH, FIL, FRONT, FTM, GRS, HBAR, IOTX, LINK, LTC, MANA, MATIC, NEO, OM, ONE, PAX, QTUM, STRAX, SXP, TRX, TUSD, UNI, USDC, USDT, VAI, VET, WRX, XLM, XMR, XRP, XTZ, XVS, ZEC y ZIL.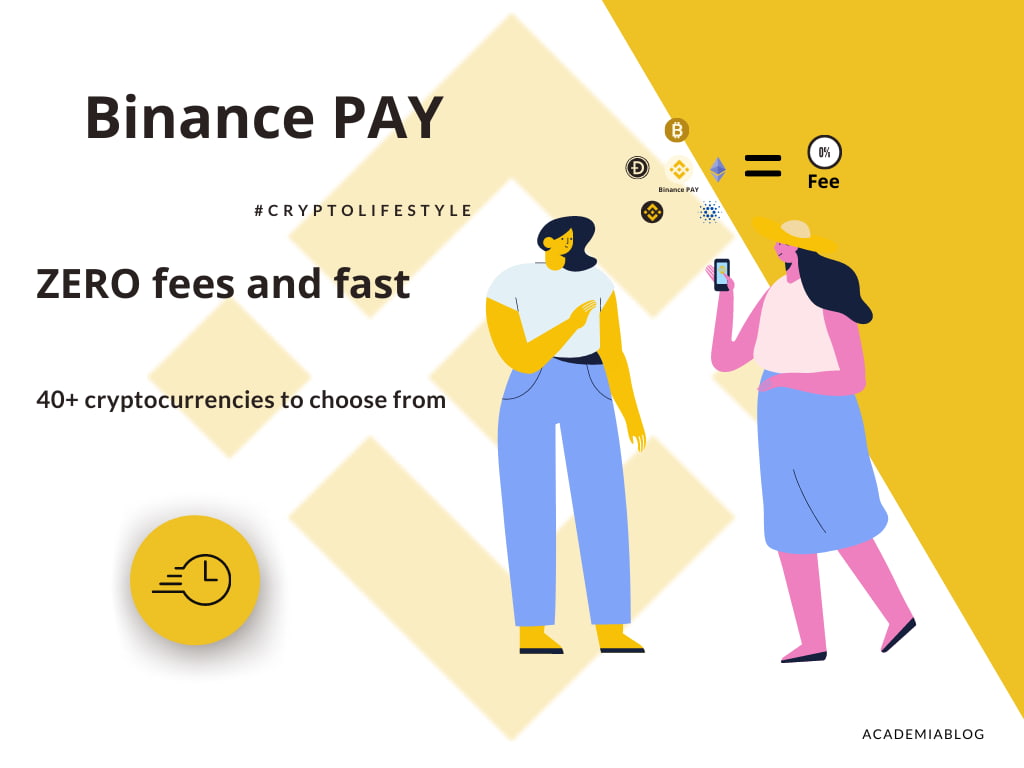 5. Binance Pay is secure.
To make any kind of payment is necessary to enter the secret PIN created when you set up your Pay account in Binance.
6. Binance Pay transactions are confirmed instantly.
Without delay, without waiting, you place the amount to pay in crypto, the ID, email, or nickname to whom you are going to pay, your secret PIN, and that's it you send crypto instantly.
7. Binance Pay is borderless.
No matter in which country you are, you can pay, and send crypto instantly.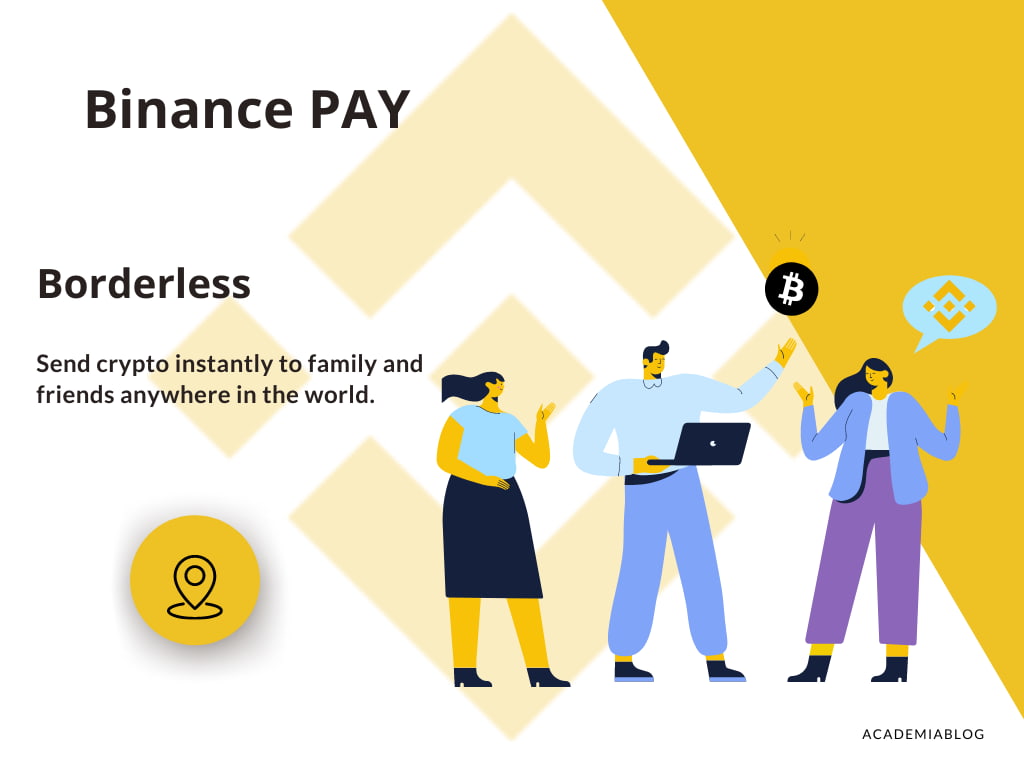 8. Binance pay is available to all eligible users
It doesn't matter if you have two years with your Binance account or you are going to create one at this moment, the Binance Pay service is available to all its users anywhere in the world.
9. You can give the gift of crypto with Crypto Box
A brand new Binance Pay feature that allows you to give cryptocurrency gifts to family and friends.
Include a nice message and send an amount in crypto, a box code must be sent so that your family member can claim their gift in Binance.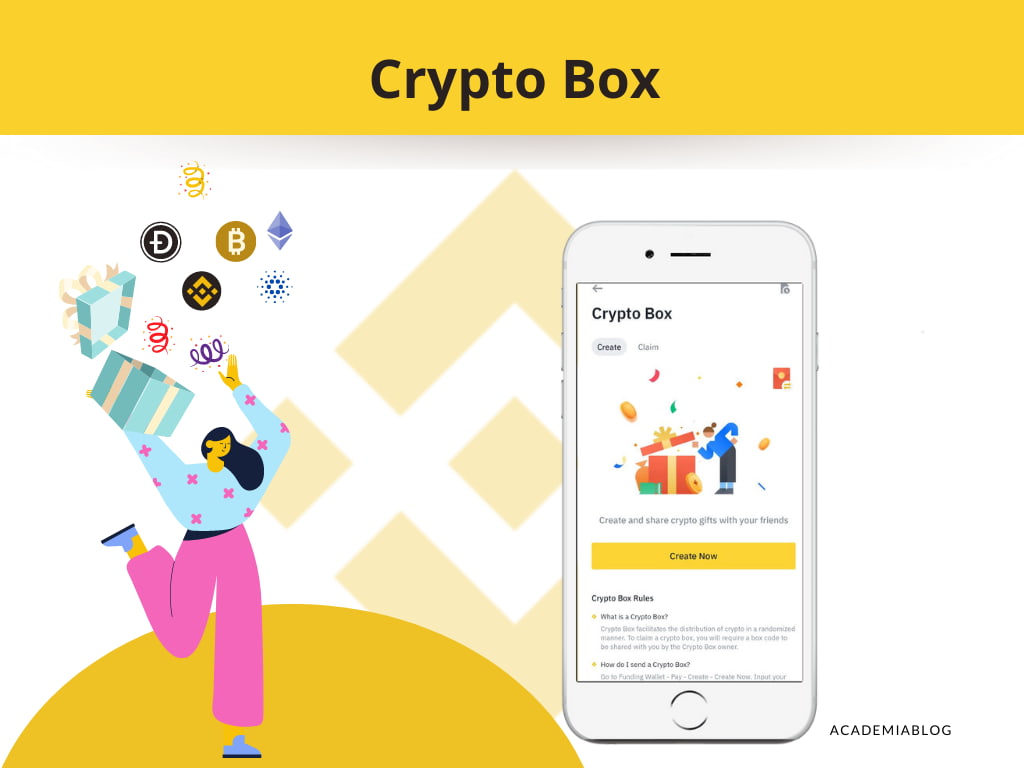 How to use Binance Pay step by step
First, we are going to set up Binance Pay in your Binance account:
1. Log in to the Binance account.
You can open one here 
2. Tap Profile and then Pay
4. Create your unique Binance Pay Nickname
6. All done. Your Pay Wallet has been successfully set up.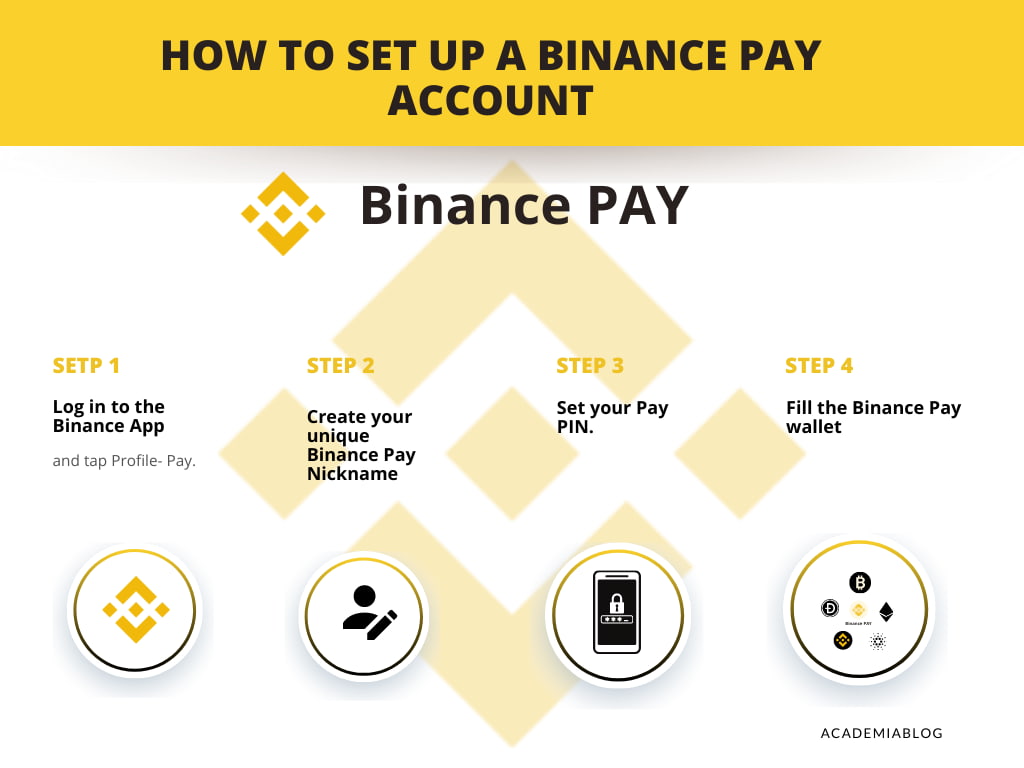 Calculate the price of services and products in Bitcoins.
Use the Bitcoin calculator to have the price updated in real-time.
How to Send Cryptocurrency with Binance Pay
To send crypto to others with Binance Pay you can use QR code or your Binance account email, phone number, or Pay ID.
How to send crypto with Binance Pay via email, phone number, Pay ID. Step by Step
1. Log in to your Binance account
3. Tap the ... button and select Send.
4. Select pay option: Email, Pay ID or phone number.
5. Paste or manually enter the Binance account email, phone number or Pay ID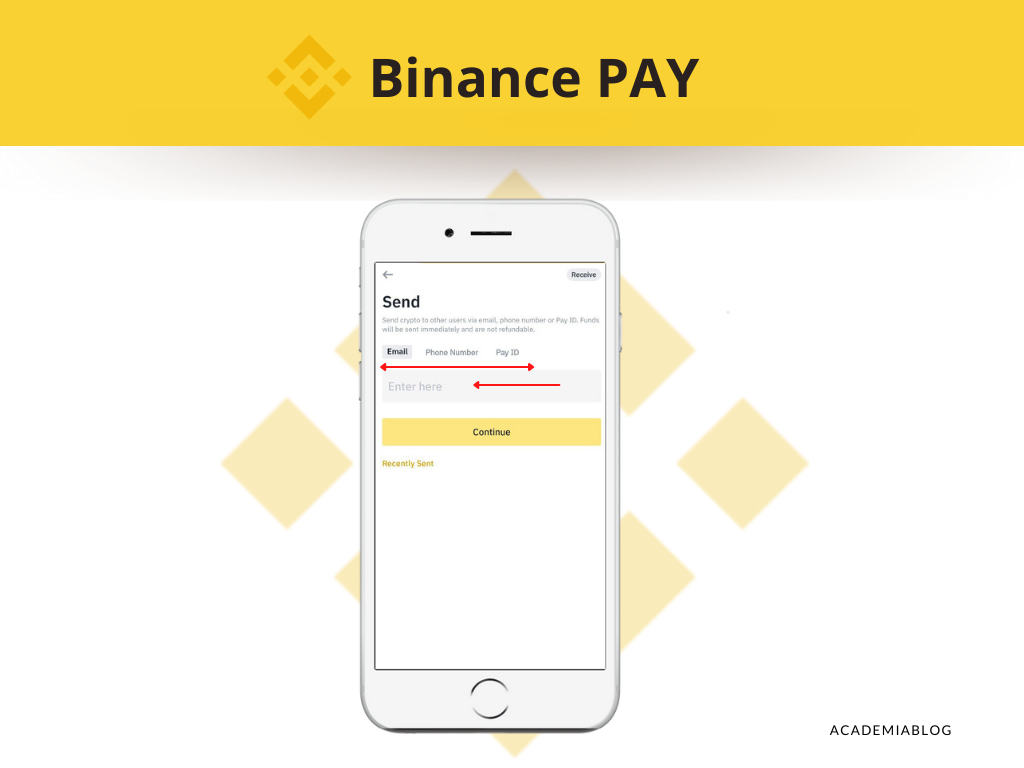 6. Choose the cryptocurrency you want to transfer.
8. Tap continue
9. Enter the payment amount and notes for this payment
10. Tap confirm
11. Enter your Pay PIN for payment verification.
12. All done!!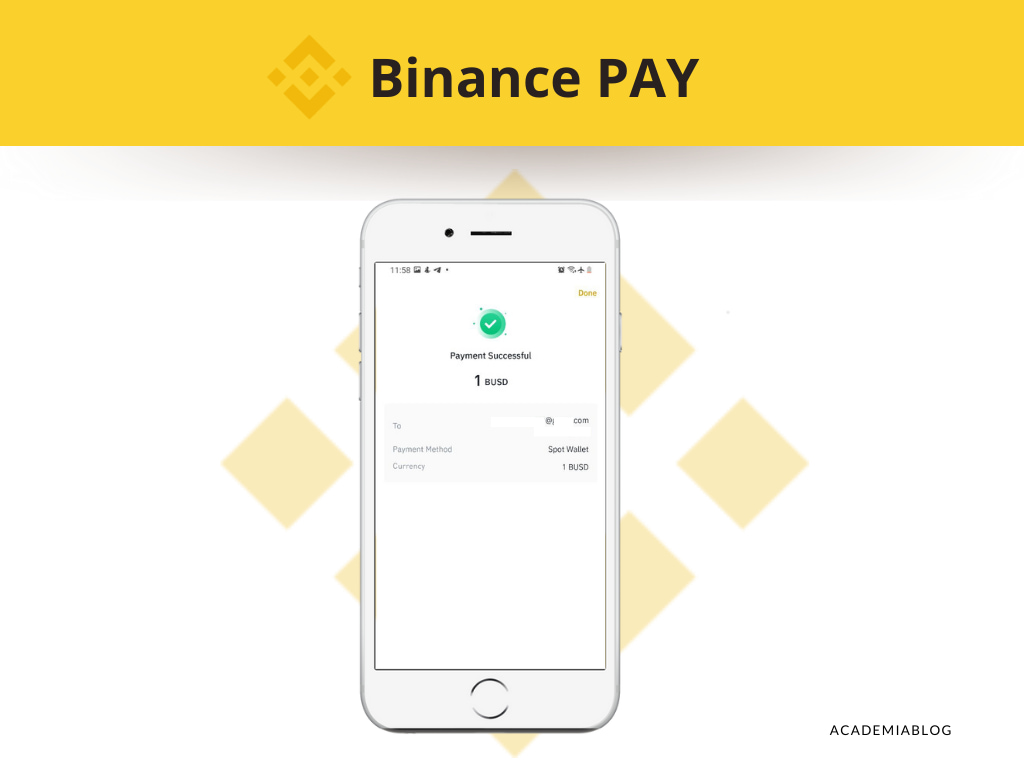 Here you have an incredible and secure method to pay and get paid with crypto using Binance Pay.
Disclaimer

This post contains affiliate links, which means that if you choose to click to make a purchase, I will receive a small commission at no cost to you. I am also compensated for creating this post, although all opinions are my own.
Lee lo más reciente en Academia Blog
Algunos links que encuentras en este artículo son red de afiliados, con ellos puedes realizar compras, esto no implica costos adicionales o mayores a los que presenta oficialmente la página a redireccionar, pero si genera pequeñas comisiones para el blog, lo que me ayuda a continuar con su mantenimiento.
Puedes leer la Política de Privacidad y los Términos y Condiciones de este blog haciendo click en en los enlaces.